All you need to know about exfoliation
Exfoliation helps to remove dead skin cells from the surface of the skin. This process helps to unclog pores, reduce the appearance of wrinkles and improve skin tone.
It can also help to boost circulation and stimulate collagen production, which can help to keep the skin looking youthful and radiant.
There are two main types of exfoliants : physical and chemical. Physical exfoliants use small particles  to gently scrub away dead skin cells, while chemical exfoliants use acids to break down the bonds between dead skin cells.
It is important to exfoliate gently and to use the right products for your skin type.
It is also important to moisturize after exfoliating to keep the skin hydrated and to prevent dryness.
Physical exfoliation
This is typically achieved with a scrub or brush, which helps to remove dirt, oil, and other impurities from the skin. Scrubs use  natural ingredients like sugar, baking soda or oatmeal to exfoliate the skin. Here are a few A-beauty scrubs :
Particularly rich in mineral salts, vitamins (notably A, B and C), amino acids, trace elements, and in antioxidants (flavonoids), it contributes to fighting against skin aging.
This funky and colorful scrub is a natural and preservative-free body scrub. Rich in coconut oil, wild honey and shea butter, it keeps the skin hydrated, nourished and protected to ensure suppleness and comfort. Perfect leg scrub to avoid ingrown hairs.
The skin can also be exfoliated with brushes . This type of exfoliation is done in Africa with black soap like the nectarome ecalyptus black and the maroccan kessa gloves or the african djampé sponge.There is also dry brushing technics that are use to exfoliate the body.
Credit : Kessa Glove Walmart Canada
Credit : Djampé Amazon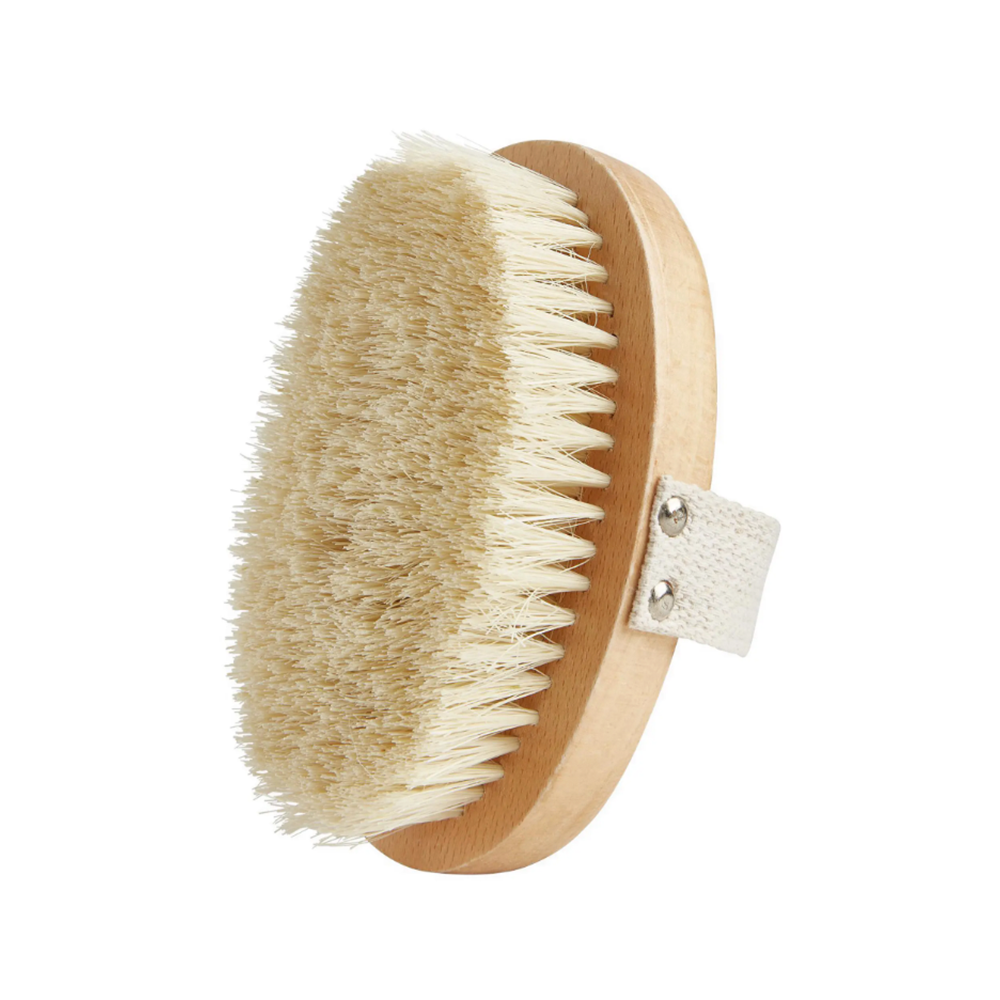 Credit : Body Brush Nordstrom
Chemical exfoliants
Chemical exfoliation is a process of removing dead skin cells from the surface of the skin by using chemical compounds. The most common type of chemical exfoliant is an alpha hydroxy acid (AHA) or beta hydroxy acid (BHA). These acids help to break down the bonds between dead skin cells, allowing them to be more easily removed from the skin. Here are a few chemical exfoliants that are clean and beginner friendly.
This serum is formulated with a blend of AHA and BHA acids suitable for daily use. It smoothes skin texture by deep cleansing the pores. It protects the skin from damage caused by free radicals and pollution
This toner hydrates but also exfoliates the skin, and improves the appearance of wrinkles, enlarged pores and blemishes. This dual action is a  due to citric acid which  provides gentle exfoliation,and the hyaluronic acid  that draws moisture to the skin's surface.
Combination exfoliants
Some exfoliants contain both chemical and physical exfoliants, which complement each other well.  
A 3-in-1 exfoliating mask that evens and brightens complexion thanks to its dual enzymatic and mechanical exfoliating action. The skin is smooth, clear and unified.
What type of exfoliant have you tried? Share with us in the comments and pin it
Photo from Unsplash Nsey Benajah